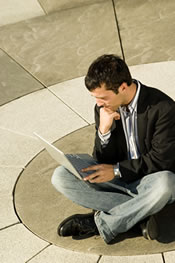 Do it yourself or let me design your site for you...
We offer a wide variety of options for you to choose from.
Site Design
Info Design - A site that is designed simply to inform customers about your business or product.
Commerce Design - site that includes an online shopping cart or catalog of products.
Content Management System (CMS) - A site that is designed to utilize a MySQL database so that you or your employees can login and make changes to the site yourself.
Site, Domain & Email Hosting
Info. Hosting ($10/mo)* - This package is great if you want to get your name out there.
1 Domain name
500 MB Disk Space
50 GB Data Transfer
99.9% Up time
Commerce Hosting ($25/mo) -
If you want to get your products sold online, this is the way to do it.
2 Domain names
750 MB Disk Space
100 GB Data Transfer
10 Mailboxes and access to Google Calendar and Google Docs via Google Apps
PayPal integration
99.9% Up time
Larger packages available, just ask...
Receive 1 month of hosting free when you pay for a full year in advance.
Site Statistics
All site hosting packages also come equiped with Google Analytics. With Google Analytics you can see how many visitors your site is bringing in as well as customized reporting to show you what content is ranking well.
Site Maintenance
Need someone to make regular updates to your website? Whether we designed your site or not, Trinity Web can help you maintain it. General site maintenance would include all major and minor updates from adding pictures or text on a regular basis to adding full pages. Call for pre-paid pricing plans.
Professional Email Campaigns
Yes! Email marketing really is that simple. I can help you setup and design your first email marketing campaign with Mail Chimp.
Mail Chimp is a powerful and yet inexpensive email marketing platform. You can get signed up for free at www.mailchimp.com.
I Also Recommend ...
Copyrighting - Susan Landry
Writing copy is about captivating the audience's attention and not letting go. It's about tapping into their hopes, their desires, their fears and their dreams. Words are powerful. I use this power every day to help my clients build a successful business.
Photography - Steve Hale
I've been a photographer for over 30 years and enjoy shooting portraits, weddings, and reunions. I enjoy working with people and the challenges of creating unique portraits that reflect the inner strength of my clients. My faith in Jesus and my passionate love for my family is my strength and motivation. Enjoy my photos and get in touch with me if you want quality photos of loved ones that will appreciate with time. Any comments or suggestions would be greatly appreciated so please sign my guest book.